Statement glasses to accessorise your style
Very friendly and helped out with choosing the right glasses. Very pleased with the great customer service.
– V. Araldi
"Great honest and reliable service. Very professional small business." 
– H. Brown
Over 500 frames to choose from
Design your eyewear to reflect your style with our large range of frames to choose from! With over 500 frames in our practice, you can find the colour, size, pattern, and shape that suits you best. From suppliers such as Rodenstock, Silhouette, and Coco Song you're bound to find the perfect eyewear.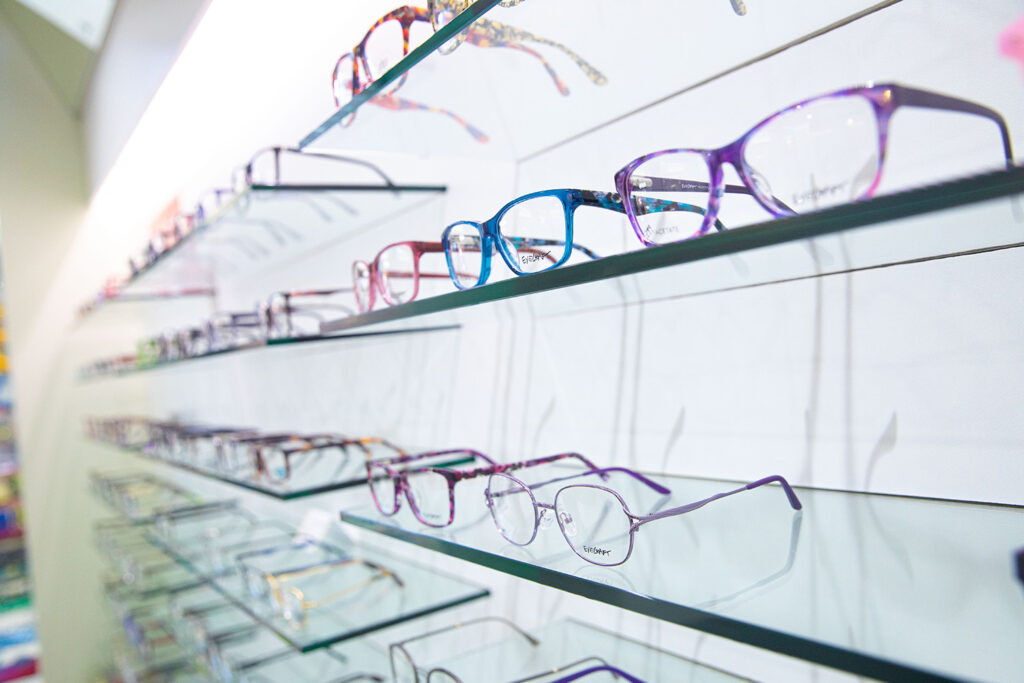 If you've recently had an eye examination and require new glasses, our team at Spectrum Family Eyecare are ready to help. For some, getting new glasses can be scary or unnerving however, we help you find a perfect pair of glasses you will love and will allow you to thrive.
At Spectrum Family Eyecare, we aim to understand you and your lifestyle. This helps us to provide you the best pair of glasses to boost your confidence and allow you to see the world!
Fitting and servicing frames and lenses
Everyone requires unique solutions for eyecare. If you need an adjustment made to suit your sport or hobby, or whether you need damaged parts replaced, our team at Spectrum Family Eyecare can help.
Understanding how you use your eyewear allows us to make simple adjustments. Make the most of your favourite glasses rather than buying new pairs for individual activities.
Understanding your lifestyle and how you use your glasses, allows us to recommend which frame material will suit you best. We currently work with stainless steel, titanium, and acetate which vary in weight, durability, colour, and strength. During your visit, we discuss your options and find the right solution for you.
Protect your eyesight for years to come!
Protecting your eyesight from harmful UV rays is vital. Even small amounts of UV exposure over time can increase your risk of developing cataracts or macular degeneration.
With a great range of frame and lens options available in our practice, our team can help you find the perfect sunglasses to suit your lifestyle.
No need to hide or throw away your worn or damaged glasses, bring them into Spectrum Family Eyecare for repair. Once you've visited our practice, we can assess the condition, material, age, and type of your glasses and advise whether repairing is the right option for you.
Not only caring for our local community's eyesight, at Spectrum Family Eyecare we are passionate about helping people in developing countries.

With over four million pairs of glasses thrown away each year, we request instead that you donate your unwanted and unused eyewear. We clean, repair, and recycle preloved glasses to pass onto those in need which in turn not only helps save our planet, but the eyesight of future generations. 
Protect your eyesight for years to come!
Rodenstock DNEye® scanner
At Spectrum Family Eye Care, we have introduced the Rodenstock DNEye® high-precision 3D scanner into our practice. This revolutionary technology utilises an axial length measurement tool to measure your eyes more precisely than ever before. This allows us to detect and monitor the development of Myopia earlier and help prevent future problems with your eyesight.
Frequently asked questions
Unfortunately, there is no such thing as a scratch-proof lens. New technologies and special coatings have made lenses tougher, but all lenses need to be cared for properly to avoid scratches. If you store your glasses safely in a case and clean them correctly, they could last you decades.
Cleaning your prescription lenses with your clothes may be convenient, but over time your lenses will become scratched, which will impair your vision. You may also need to replace or repair your lenses sooner.